Home Automation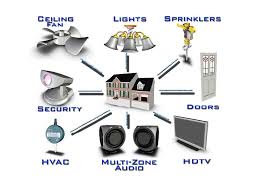 Whether a homeowner wants to reduce stress or better protect property, a home automation system might be a smart investment. This guide provides a clear explanation of the various benefits, cost and functions of a home automation system.
What is Home Automation?
Home automation is the centralized control of a variety of functions and systems in the house. Many of the devices and appliances within the home are set to work in tandem and can all be controlled from a simple, user-friendly interface. The benefits of home automation systems often outweigh that initial cost, which can range from just over $1,000 for a simple wireless model to more than $20,000 for a wired system installed both in the interior and exterior of the home.
Benefits of a Home Automation System
The major benefits of a home automation system include greater energy efficiency, added security, convenience and a potential increase in property value. With this system, one can adjust temperatures even when not in the home from a cellphone or laptop. The system can also be set to automatically adjust the temperatures and humidity as needed. The system can detect if doors are unlocked and then lock them, notify homeowners if a door has been opened unexpectedly or even provide a view of the home through a camera in the security system. Lights and appliances can be turned off and on at intervals when residents are out of town to deter crime. Homeowners can also handle jobs like watering the lawn or turning off major appliances right from their electronic devices.
What Home Automation Can Control?
Homeowners can set system preferences to control a number of elements including:
Internal and external lighting
Alarm and security systems
Door and window locks
Water temperature of a pool or hot tub
Home theater systems and speakers
Phone and Internet lines
Yard irrigation
Thermostats
Shades, blinds, shutters and curtains
Types of Home Automation Systems
Homeowners can choose from wired, wireless or hybrid (combining both wired and wireless) home automation systems. A wired home automation system is the most reliable option. With this system, there is less potential for interference and technical issues. However, wired systems are much more expensive since they require substantial labor during installation, whereas a wireless system requires only a single power cord plugged into a wall outlet. Installing a wired home automation system is cheaper and simpler during the construction of a house. Installing a system after construction requires additional electrical work and is more labor-intensive. With the hybrid, or dual mesh, home automation system, homeowners get the reliability and backup of a wired system, but the system works wirelessly if there is a connection issue.
Components of a Home Automation System
The components of a home automation system can be divided into four categories: the software, the coordinator, the user interface and the triggers. The software is the programming that ensures the right controls are adjusted. The coordinator, also known as the transceiver, is the brain of the operation, and it operates based on information, sensors and user commands. The interface is the physical item that homeowners interact with during operation. An interface for a home automation system can be a digital screen attached to the wall or an equipped tablet, computer or cellphone. Users can control some systems with voice commands. Finally, the triggers are the various sensors and switches that initiate changes. For example, a sensor in the bedroom might adjust the thermostat if the temperature changes, while an unlocked door might set off a trigger that sends homeowners a text alarm.
Professional Installation and Repair
The cost of installation or repair of a home automation system depends on the type of system and what it controls. For example, hiring an electrician to wire an entire system in a five-bedroom home is much more expensive than setting up a wireless system in a studio apartment. While wired home automation systems may cost an average of $10,000, repair can often be free with a monthly subscription service or cost as little as $50 for a single visit. Larger repairs, which will cost significantly more, may require the services of an electrician. Common repairs include rewiring systems that are out of date and no longer up to code or replacing circuits and outlets in order for the home automation system to function.