Thermostats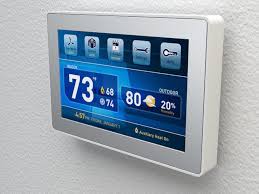 Gone are the days when your only choice for a new thermostat was a metal box with a little wheel you turned manually to change the temperature. Today we have many more choices with many more features. But with extra features come extra costs. Here are a few factors that will affect the cost of installing a new thermostat.
Type of Thermostat
For the lowest price you can still get the old fashioned manual type of thermostat that functions entirely by moving a small needle left and right to select the temperature. This will be your least expensive thermostat option. For a slightly higher cost, you might select an electronic and programmable thermostat that allows you to program and set heating and cooling options but has very few other features. At the top of the line there are many different types of programmable digital thermostats. Many of these models can have numerous programs set for days at a time. They may illuminate for easy access in the dark. And many of the newest models have touch screens.
Thermostat Installation
Whether you install a modern digital thermostat, or a simple manual one, the installation costs will not vary very much. A thermostat installation is still an electrical job no matter what type of unit you are having installed. Because it does involve electricity, this is a job best left to a professional, but it is a moderately simple electrical procedure and should not be too expensive. If you need multiple thermostats installed in your home, ask your pro what the cost would be to install them all at once. Although the overall cost may be higher, the per unit cost will almost always be considerably lower if a pro only has to make one trip to your home.
Energy Cost Savings
Although a digital and programmable thermostat may be a larger upfront cost than a simple manual one, consider the cost savings on your energy bills. If you can program your thermostat to heat and cool your home only when you need it and when you are present, the overall savings on your energy bills could be significant. Overall, you will be more comfortable and spend less time adjusting your thermostat with a digital thermostat. Program it for your comfort.